The Periodic Table of BIM – Italy (versione beta/rookies*) per il progettista che non deve chiedere mai

9

min read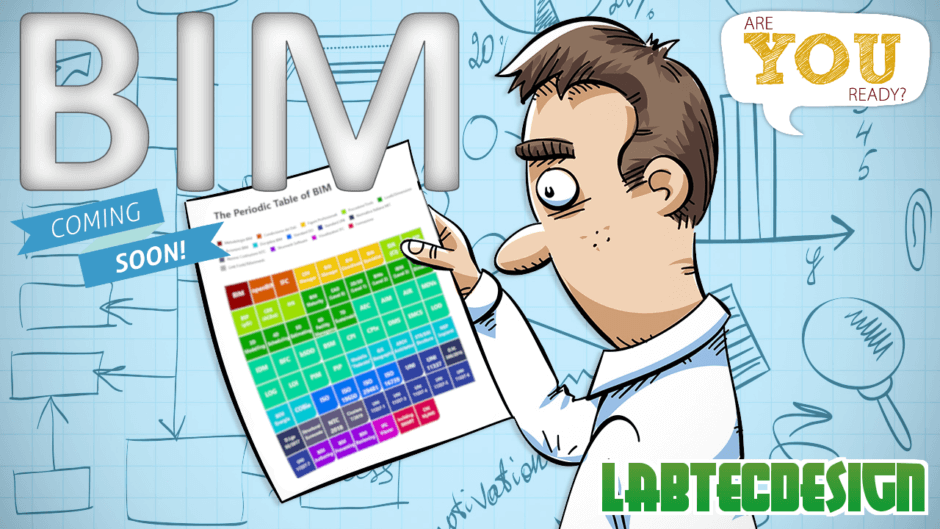 Era proprio necessaria una Tavola Periodica del BIM in versione italiana? Ebbene, si. Ho raccolto in un'unica paginetta A4 oltre 100 acronimi e concetti del Building Information Modeling. La puoi navigare in formato digitale o scaricare in formato ebook per stamparla a colori e appenderla in ufficio. Se utilizzi un dispositivo Android puoi installare anche l'apposita APP realizzata per LabTecDesign.
Perché hai bisogno della Tavola Periodica del BIM (16+ motivi estremamente convincenti)
Perché hai una parete bianca in ufficio e devi riempirla a tutti i costi;
Perché a causa della diminuzione del carico di lavoro non sai come consumare l'inchiostro della tua nuovissima e fiammante stampante laser multifunzione a colori;
Un collega ti ha parlato del Decreto Baratono e tu hai una passione sfrenata per le scuole di canto e vuoi diventare baritono;
Perché in Italia regna sempre sovrana la confusione e una tabella in più non ha mai fatto male a nessuno;
Perché come me non sopporti i "teorici del BIM" che non sono mai stati in cantiere e continuano a complicare delle specifiche che dovrebbero essere semplificate, anzi estremamente semplificate per me e per te mio carissimo "progettista che non devi chiedere mai";
Perché il ricettario del BIMby non contiene gli stessi acronimi e cucinare al vapore non fa sempre bene come ti raccontano i colleghi;
Perché la tua software house ha come slogan "te lo do io l'IFC" e poi non importano nemmeno in DXF;
Perché il "Modello Federato" non andava di moda come le spalline negli anni '80;
Perché non sai cosa è il BIM ma dai 2 a i 6 anni eri un fan sfegatato di BIM BUM BAM;
Perché quando l'ultima volta al telefono ti hanno detto che non hanno approvato il BEP tu hai sonoramente risposto "EMBEP?";
Perché l'ACDat e il CDE non li trovi in farmacia e non hai bisogno della ricetta;
Perché hai ricevuto un file con estensione IFC e hai chiesto informazioni alla International Federation of Sport Climbing per riuscire ad aprire il documento;
Perché dopo che il BIM Manager ha nominato in riunione il LOD sei rimasto deluso per non averlo trovato come piatto del giorno a mensa;
Perché hai il tuo software CAD preferito;
Perché sei un architetto* (P.S. questa motivazione di solito non viene capita dagli architetti);
Perché stai ancora leggendo questo post (domandati come e perché stai perdendo tempo su LabTecDesign e poi fai il download dell'ebook).
Spoiler e retroscena di produzione della Tavola Periodica del BIM
Ti confesso che da tempo cercavo una soluzione alternativa per raccogliere in modo estremamente sintetico i principali acronimi e concetti del BIM. La mia idea deriva dalla Periodic Table of BIM | NBS pubblicata nel 2017 in UK che descrive in maniera "militare" le fasi dell'implementazione del processo BIM all'interno delle aziende.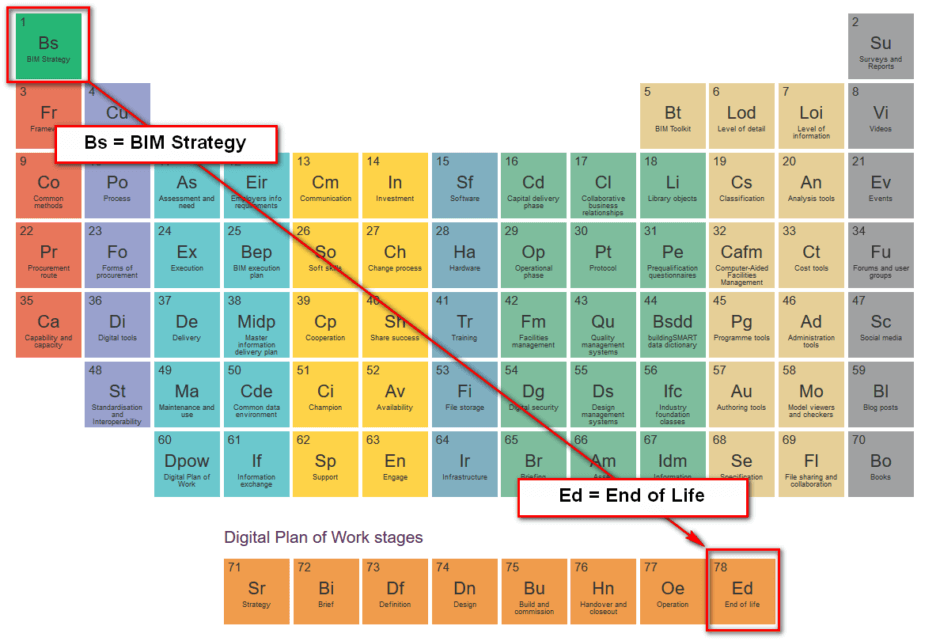 Purtroppo nella versione inglese l'interfaccia grafica accattivante e interattiva, contrasta con la noia a causa dei concetti che vanno dalla BIM Strategy (Bs) alla End of Life (Ed). Appunto letteralmente alla "fine della vita" per chi ha la pazienza di spulciare tutte le 78 caselle colorate (aggiungi anche la fatica di tradurre dall'inglese all'italiano… fai un po' te). Quello di NBS è senz'altro un ottimo spunto ma nella professione di tutti i giorni non è che abbia tutta questa utilità. I concetti rimangono quasi tutti astratti.
Ho deciso quindi di utilizzare lo stesso schema della Tavola Periodica ma di sintetizzare al massimo i contenuti. L'ho progettata sempre in una forma dinamica a colori per individuare velocemente i diversi ambiti in modo da avere in mente l'equivalente tra i diversi acronimi a livello internazionale e nazionale.
Per me funziona così, è lo stesso schema che ho in testa e sarà adattato nel tempo man mano che incontrerò nuovi concetti e nuovi standard. La tabella è riferita principalmente ai dettami della normativa italiana con i richiami agli standard BIM internazionali.
Ovviamente da bravo ingegnere che sono, una parte è dedicata alla normativa strutturale (Eurocodici, NTC e Circolare…).
Periodic Table of BIM – Desktop Version
Ho creato un'interfaccia leggera e compatibile con tutti i browser che è facilmente accessibile anche da mobile ed è disponibile nel "laboratorio" di LabTecDesign.
Come funziona la tabella? Nella "versione (beta/rookies*) – per il progettista che non deve chiedere mai" – fai click su una delle tante caselline colorate et voilà le jeux sont feit…
*Con il termine "Rookie" nello slang americano si identifica un esordiente, una matricola, una recluta o un pricipiante che frequenta il primo anno di un'attività.
Periodic Table of BIM – eBook Version
Se preferisci conservare gelosamente questa opera d'ingegno in formato ebook o vuoi consumare carta e inchiostro, ti metto a disposizione la tavola in formato A4 PDF.
Per eseguire il download devi lasciarmi il tuo nome e la tua email! Attraverso la newsletter ti invierò gli aggiornamenti di LabTecDesign e le release più importanti dell'eBook.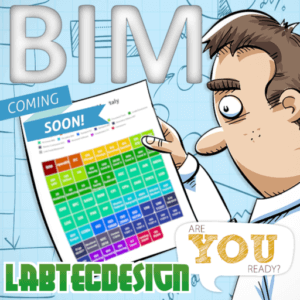 Periodic Table of BIM – Android App
Se utilizzi dispositivi Android ho creato anche un'apposita applicazione che puoi consultare direttamente su Tablet e Smartphone. Nello stile classico di LabTecDesign, l'APP è priva di pubblicità, non richiede permessi speciali e non invade la tua privacy.

Se vuoi inviarmi il tuo feedback sull'articolo, se vuoi collaborare o suggerire nuovi acronimi, se vuoi tradurre o ampliare la tabella o se riscontri errori o malfunzionamenti nell'App e nel Sito puoi segnalarmelo attraverso il modulo di contatto. Grazie.
# Changelog Periodic Table of BIM - Desktop Version
All notable changes to this project will be documented here
[WiP] = Work in Progress -> Release non ancora disponibile per il download
# Ver.(2020.02.17_v2d): Added AcronomyFinder + Smart Building + BMS + DfMA + PNCS
# Ver.(2020.02.17_v1d): Update SGBIM + Visual Scripting + IoT
# Ver.(2020.01.17_v6d): Moved COBie - CAM - LCA - LEED - NZEB
# Ver.(2020.01.17_v5d): Update section Riferimenti: Dizionari, Wiki, Forum, Associazioni, Enti, eBook  
# Ver.(2020.01.17_v4d): New section Digital Twin: AI, Smart City, Big Data, Realtà Virtuale, Controllo, Manutenzione  
# Ver.(2020.01.17_v3d): New section Opere Pubbliche: Enti, Normative, Banche Dati, Sostenibilità 
# Ver.(2020.01.17_v2d): New section OpenBIM: Formati, Procedure 
# Ver.(2020.01.17_v1d): Added sezioni extra con menù a tendina 
# Ver.(2019.12.19_v1d): Added Swarm Modelling + glTF + FER + SGBIM + GPP + CIS + SHM - Update HBIM
# Ver.(2019.11.29_v1d): Added Licenza Creative Commons 4.0 + Color Background Link
# Ver.(2019.11.25_v1d): Added buildingsmartitalia + minor bug fixes
# Ver.(2019.11.21_v2d): Added BIM Dimension 8D Safety
# Ver.(2019.11.21_v1d): Added many new words in standby  
# Ver.(2019.11.20_v1d): Added schema, versione IFC2x3, IFC4, IFC5
# Ver.(2019.11.18_v1d): Update BCF (fix error BFC) - Added tool gTranslate 
# Ver.(2019.11.17_v1d): Added many new words in standby - Added ICDD + ISO 21597, Merged CPi+CPix, Update BMS (fix error BSM), PIP, IFC, bSI - Moved Cobie, CAM, LCA, LEED - Insert Key shortcuts zoom (CTRL+) and search (CTRL+F) and more
# Ver.(2019.11.16_v1d): Change background color of tab pop-up, Added highlight key word, reverse order of BIM/CDE Manager, Update figure professionali BIM
# Ver.(2019.10.10_v8d): Added infraBIM box
# Ver.(2019.10.10_v7d): Update Code Checking box
# Ver.(2019.10.10_v6d): Added ePermit BIM process box
# Ver.(2019.10.10_v5d): Merge ISO+CEN box
# Ver.(2019.10.10_v4d): Added O&M (Operation & Maintenance) Model box 
# Ver.(2019.10.10_v3d): Merge BEM+SBEM box 
# Ver.(2019.10.10_v2d): Added DigiPLACE (Digital Platform for Construction in EU) box 
# Ver.(2019.10.10_v1d): Update NTC2018 box 
# Ver.(2019.09.29_v1d): Small bug fixes   
# Ver.(2019.09.22_v1d): Optimized A4 format table for ebook + Small bug fixes
# Ver.(2019.09.13_v1d): Small bug fixes + Added new BIM concepts
# Ver.(2019.09.11_v1d): Small bug fixes + Added new BIM concepts 
# Ver.(2019.09.10_v1d): New Table Beta/Rookies* Version
# Ver.(2019.09.09_v1d): Small bug fixes + Added new BIM concepts
# Ver.(2019.09.07_v1d): Added new BIM concepts
# Ver.(2019.09.06_v3d): Added user instruction
# Ver.(2019.09.06_v2d): New CSS align + Added Icon
# Ver.(2019.09.06_v1d): Small bug fixes
# Ver.(2019.09.05_v1d): Small bug fixes
# Ver.(2019.09.04_v1d): First Public Beta Release
---
# Changelog Periodic Table of BIM - eBook Version
All notable changes to this project will be documented here
[WiP] = Work in Progress -> Release non ancora disponibile per il download
# Ver.(2019.11.21_v1d): Small bug fixes + Procedure e Tools per la redazione e la validazione dei documenti del progetto BIM 
# Ver.(2019.11.18_v1d): Small bug fixes + Figure Professionali del BIM
# Ver.(2019.10.10_v1d): Small bug fixes + Condivisione dei dati BIM    
# Ver.(2019.09.22_v1d): Small bug fixes + Metodologia BIM   
# Ver.(2019.09.13_v1d): Nuova Tabella BIM ottimizzata per la stampa in A4  
# Ver.(2019.09.11_v1d): Small bug fixes 
# Ver.(2019.09.07_v1d): Nuova Tabella BIM ottimizzata per la stampa in A4 
# Ver.(2019.09.06_v1d): Small bug fixes
# Ver.(2019.09.05_v1d): Nuova Tabella BIM ottimizzata per la stampa in A4
# Ver.(2019.09.04_v1d): First Public Beta Release
---
# Changelog Periodic Table of BIM - Android
App All notable changes to this project will be documented here
[WiP] = Work in Progress -> Release non ancora disponibile per il download
# Ver.(2020.02.20_v1.2): Aggiunta una comoda funzione di zoom; Migliorata la velocità di caricamento e di rendering
# Ver.(2019.10.11_v1.1): Added Progress Bar on Loading External Urls
# Ver.(2019.08.31_v1.0_beta): First Public Beta Release